Carol Cook, AVBC staff member, veterinary nurse and recent Masters graduate in Animal Welfare Science, Ethics and Law, spent her recent leave supporting and learning more about the work of Edgars Mission.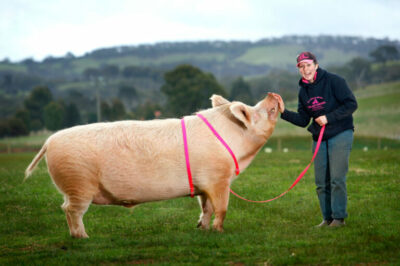 Based in Lancefield, Victoria, Edgar's Mission is a farm sanctuary currently caring for 409 animals alongside its formidable rehoming program. Edgar's Mission strives to improve the welfare of farmed animals and has been dedicated to fostering kindness, love, and empathy towards farmed animals for over 20 years.
Carol stayed on-site in one of the sanctuary's three sustainable tiny houses, which offer an eco-friendly country getaway amongst rescued farmed animals and an immersive experience at the sanctuary including a guided tour to meet some of the rescued animal residents.
Carol shared her experience with the AVBC team and commented that "the dedication of the sanctuary staff, volunteers and their local veterinary team is humbling and inspiring". She also observed exceptionally high standards of animal welfare, including species specific enrichment strategies, for example the pigs have their own showers which they operate themselves by nudging a lever!
Also of note is the staff's extensive knowledge of individual animal behaviour, which was evidenced by the calm demeanour of the animals when considering their backgrounds and the presence of unfamiliar humans. Whilst all the animals were a pleasure to meet, Carol made special mention of canine veterinary nurse Ruby, the free-ranging miniature donkeys Hamish and Andy and pigs Ballet Bob and Thumbelina – who taught herself to sit for a treat after observing this behaviour from another sanctuary pig. Carol is planning a return visit later this year to participate in one of the sanctuary's volunteer days. 

Pam Ahern, Founder of Edgar's Mission, expressed her excitement about Edgar's tiny house visit experience, stating that: "We are thrilled to offer this unique experience to animal lovers and compassionate individuals alike. Our tiny houses embody the values we hold dear at Edgar's Mission, providing an unparalleled opportunity to connect with animals and nature on a deeper level." 
Edgar's Mission's tiny houses are available to book. For more information, visit www.edgarsmission.org.au/accommodation.
You can donate to Edgar's Mission here.
Edgar's Wishlist is available here.