The Australasian Veterinary Boards Council Inc (AVBC) requires all applicants to demonstrate that their English language skills are suitable for the practice of veterinary science in Australia and New Zealand. 
Background 
To practise safely in Australia and New Zealand, registered veterinarians must have strong English language skills. They must be able to communicate effectively with clients, collaborate with colleagues and peers in the veterinary profession and keep clear and accurate medical records. 
The English language standards set by the AVBC help to ensure that all applicants possess these skills, regardless of their language background or visa status. 
The AVBC English Language Standard is applied to processes including AVE Eligibility Assessments or Skills Assessments for Migration. 
Pathways
The standard offers four pathways for applicants to demonstrate that they have the necessary English language skills to safely practice as a veterinarian in Australia and New Zealand.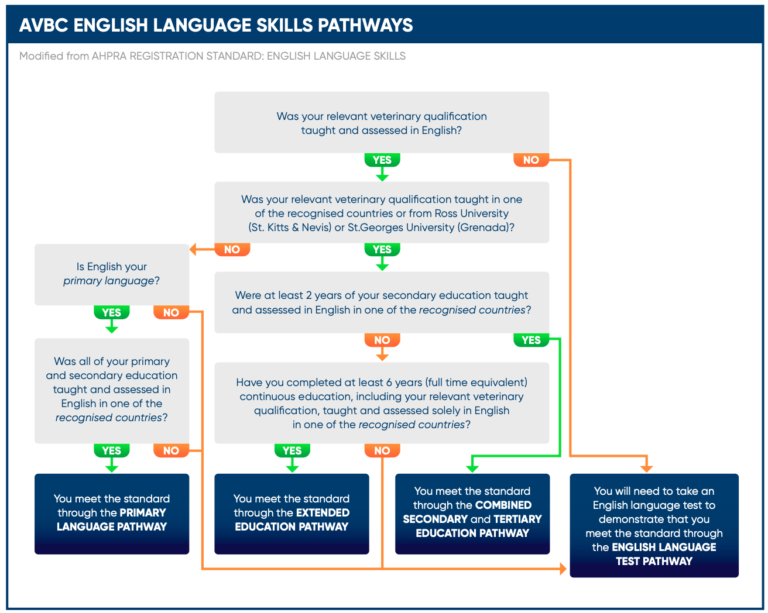 For applicants that meet the standards of the PRIMARY LANGUAGE PATHWAY, EXTENDED EDUCATION PATHWAY or COMBINED SECONDARY AND TERTIARY EDUCATION PATHWAY will need to complete the English Language Education Evidence Form and submit with their application. 
If you meet the ENGLISH LANGUAGE TEST PATHWAY, you will have to take one of the 4 approved English language tests and achieve the minimum required scores. Submit the results with your application. If you are relying on the PTE Academic test or the OET test, you should also authorise PTE/OET to make your results available to AVBC.