STEP 1: Hold General Registration
Before you can apply to have your specialist training and qualifications assessed by the Advisory Committee on the Registration of Veterinary Specialists (ACRVS), you must be registered with an AVBC member registration board in Australia or New Zealand. To apply for general registration, you need to contact the Board in the jurisdiction in which you wish to work directly. Contact details can be found here.
If you are seeking specialist registration with the Veterinary Surgeons Board of South Australia, please apply to the Board directly.
---
STEP 2: Meet the Eligibility Criteria
Before applying to the ACRVS, applicants must meet the following criteria: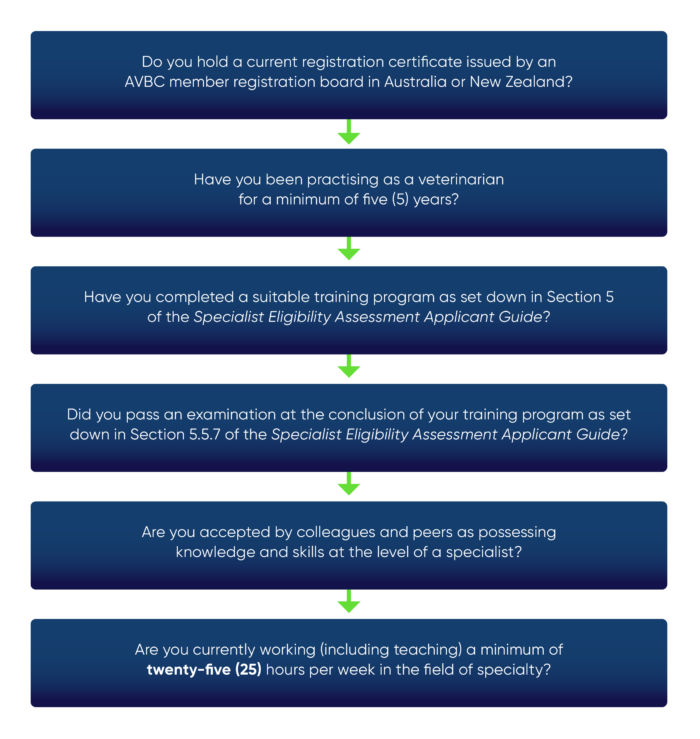 If you are seeking recognition in a new specialty in Australia or New Zealand and have not completed a formal training program within a recognised specialty college, you may be eligible to apply as a Founding Member of a New Specialty.
You must provide supporting documents that meet specific standards with your application. Download our supporting evidence checklist to ensure you have everything ready to apply.
---
STEP 3: Complete the Specialist Assessment Application
Frequently Asked Questions
Under these circumstances you must provide a colour scan of the document which has been certified as a copy of the original and scanned at >300dpi.
A certified copy of an original is clearly authorised as a true copy of the original by an appropriate person.
A person on the list of authorised witnesses is generally acceptable to the AVBC to certify a document. Persons include Justices of the Peace (JP), Notaries public, legal practitioners, veterinarians and admissions officers of all Australian universities.
To have your copies certified you will need to present both the original and the copy of each document to the person certifying the copies.
Each copy of the document must be certified separately and must include the following:
the words "certified true copy of the original".
the signature of the certifying officer.
 the name and address, and provider/registration number (where applicable) of the certifying officer legibly printed below the signature.
the certifier's email address and telephone number.
From the details provided, it must be possible for AVBC to contact the certifying officer if necessary.
If your supporting documents are written in a language other than English, you must provide:
 All supporting documents in the original language; 
Official English translated versions of all documents.
The translations must be included in the .pdf file for the documents to which they refer (extract translations will not be accepted).
All scanned documents (both in the original language and translated) must meet the supporting document requirements previously outlined. 
Please note that AVBC reserves the right to request applicants to provide translations completed by a translator in Australia, accredited by the National Accreditation Authority for Translators and Interpreters (NAATI).
Further Questions​
Please refer back to this website for updates or contact the AVBC via email: specialists@avbc.asn.au
Are You I Ready to Apply?