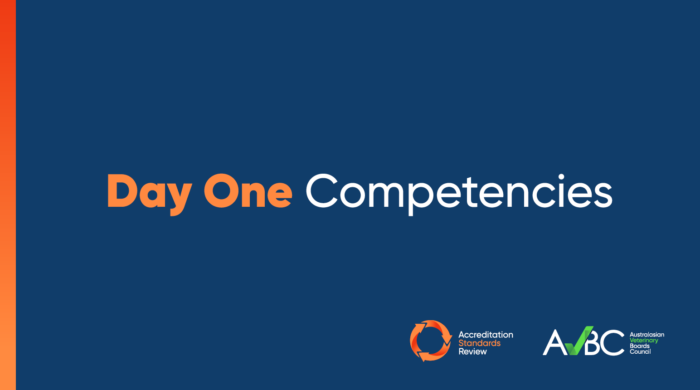 Many international veterinary accreditation organisations use D1Cs to convey their expectations of veterinary graduates on "Day One" of their professional careers. The competencies describe the knowledge, skills, values, and attitudes veterinarians must possess on "Day One" to serve the interests of their patients and society, and to meet accreditation & the profession's requirements. 
While D1Cs are not the only standards or specifications that guide veterinary curricula, they are an important way for schools to benchmark the outcomes required for the profession. 
AVBC's new Day One Competencies come into effect in January 2024.
AVBC Day One Competencies Review 2022
 In parallel to AVBC's Accreditation Standards Review in 2022,  a review of AVBC's Day One Competencies (D1Cs) (previously known as AVBC Attributes of Veterinary Graduates) also commenced. The review of the D1Cs was conducted by a Task Group appointed by AVBC and led by VSAAC Co-Chair, Prof Jennie Hodgson. 
The review involved a two-phase stakeholder consultation process and culminated in the creation of the current AVBC Day One Competencies. In Phase 1 of the D1Cs review, AVBC invited stakeholders of veterinary services and veterinary education across Australia and New Zealand, to comment on the first draft of new competencies that were created by the Task Group. 
The outcomes of Phase 1 informed the next draft of new competencies for Phase 2 of consultation. Feedback was sought on specific aspects of the second draft. 
The results of the two consultations are available to view here: